ŚWIAT BIBLII
ŚWIAT BIBLII
17 kwietnia
W każdy trzeci czwartek miesiąca o godzinie 7:30 pm
Poznaj Świat najbardziej fascynującej Księgi świata.
Ciekawa tematyka ilustrowana barwnymi przeźroczami z Krajów Biblijnych.
Usłyszysz rzeczy, których nigdy nie słyszałeś, zobaczysz miejsca, których nigdy nie widziałeś.
Poznaj Biblię jak nigdy dotąd.
Copernicus Center, 5216 W Lawrence Ave, Chicago – Sala "C" – II piętro
WSTĘP WOLNY
http://www.adwentysciusa.com/swiat-biblii/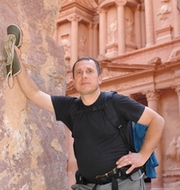 Arkadiusz Bojko jest duszpasterzem Polskiego Kościoła Adwentystów Dnia Siódmego w Chicago/Des Plaines.
Archeologia, historia i kultura biblijna są częścią jego profesjonalnych zainteresowań, które łączy z pasją fotografa.
Jest absolwentem wydziału teologicznego na Andrews University, Berrien Springs MI.
THESE EVENTS ARE IN POLISH
English Translation of Event >>> Explore the world's most fascinating book of the world.  Interesting topics illustrated with color slides of Bible Lands.  You'll hear things you've never heard of, you'll see places that you've never seen.  Explore the Bible like never before.
Every third Thursday of the month at 7:30 pm – Copernicus Center, 5216 W Lawrence Ave, Chicago – Hall "C" – second floor
All dates:
2013 – December 19 – Let's go to Bethlehem – 2017 years ago …
2014 – January 16
2014 – 20 February
2014 – March 20
2014 – April 17
FREE ADMISSION
♥The Copernicus Foundation is proud to provide underwriting through the use of the Copernicus Center facilities for this event.♥
Sharing Inf:
ŚWIAT BIBLII 
2014 – 17 kwietnia – W każdy trzeci czwartek miesiąca o godzinie 7:30 pm – Copernicus Center – 5216 W Lawrence Ave, Chicago – See: https://copernicuscenter.org/swiat-biblii/